In this day of "exhilarating worship teams, influential preaching skills, popular name speakers, TV ministries, mega Church's ministries, rousing music, creative programs, great crusades, and exciting revivals," there is one thing that gets slight attention and little emphasis in the church, but gets buried in all the "theatrics:" HOLINESS! Holiness should be our 'watchword' in these last days. Hebrews 12:14 tells us to "Follow peace with all men, and holiness, without which no man shall see the Lord."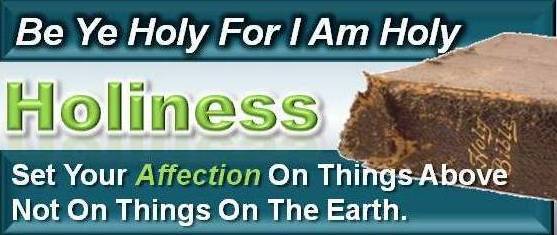 God wants us to be holy unto Him. Why? He wants us to be Holy because He is Holy, and has separated us from other people, so that we could be His (Lev. 20:26). John 3:16 gave us an undisputed demonstration of God's love, "For God so loved the world, that he gave his only begotten Son, that whosoever believeth in him should not perish, but have everlasting life. For God sent not his Son into the world to condemn the world; but that the world through him might be saved."
Jesus came into the world, died to save sinners, rose from the grave and ascended into Heaven. He is coming back for His Bride and we must be ready; sanctified and cleansed with the "washing of water by the word, that He might present it to Himself a glorious church, not having spot, or wrinkle, or any such thing, but that it should be Holy and without blemish" (Eph5:26-27). Therefore, the church needs a revival to awaken it from a lukewarm state to be on fire for the Lord while witnessing and winning souls for the Kingdom of Christ.
Let us hold fast the profession of our faith without wavering, for He is faithful that promised. May God bless and reward you for the great work you're doing in His name. Continue to "Fight the good fight of faith, lay hold on eternal life, whereunto thou are also called, and hast professed a good profession before many witnesses" (1Tim. 6:12).
Father in the name of Jesus Christ of Nazareth, I come before You to make supplications for my family, my friends and country because the world seems to be out of control, but we know you are sovereign over everything. We pray that your will be done in the hearts of our leaders; that you will forgive our sins and heal our land. Give them wisdom to lead that we may prosper and live in peace; and by the same token, give us strength for the spiritual battles we face every day, knowing that you have won the ultimate victory and that we will one day live eternally with you, in Jesus' name Amen.
Now "Watch ye therefore: for ye know not when the master of the house cometh, at even, or at midnight, or at the cockcrowing, or in the morning: Lest coming suddenly he find you sleeping. And what I say unto you I say unto all, Watch" (Mark 13:35-37).